What are the best places to visit Santiago?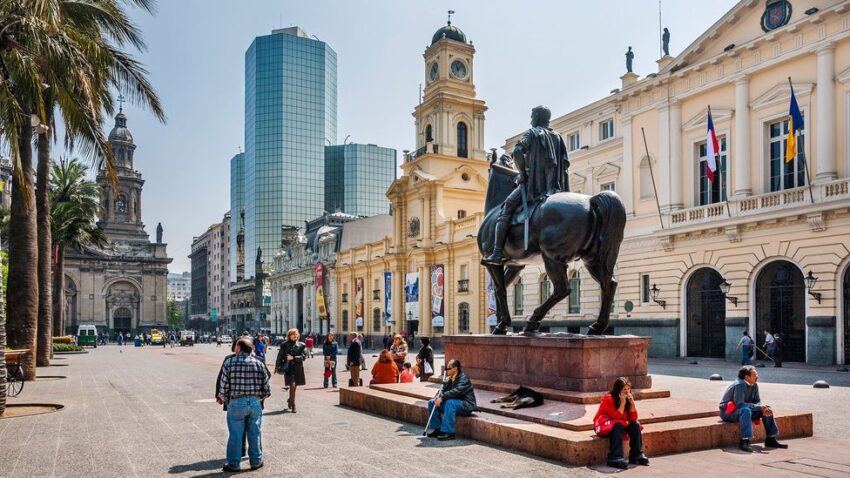 Santiago, the vibrant and bustling capital of Chile, is a city that seamlessly blends a rich cultural heritage with modern amenities. Nestled in the heart of the country, Santiago .
1. Cerro San Cristobal:
Our Santiago adventure begins at the iconic Cerro San Cristobal. This lush hill rises 880 meters above sea level, offering visitors panoramic views of the entire city. Start your ascent with a hike or opt for the funicular railway for a leisurely ride to the summit.
At the top, you'll find the Virgen de la Inmaculada Concepción, a towering statue of the Virgin Mary, which has become an iconic symbol of Santiago. It's the perfect spot to capture breathtaking photos of the city's sprawling skyline, especially during sunset.
Read Also : Delta Airlines Flights
2. Plaza de Armas:
Step back in time as you explore Santiago's historic heart, the Plaza de Armas. This bustling square is surrounded by important landmarks, including the Metropolitan Cathedral, the Royal Court Palace, and the Central Post Office. You'll often find street performers and local artisans displaying their crafts, creating a vibrant atmosphere.
Take a moment to admire the neoclassical architecture, and consider visiting the nearby Museo Chileno de Arte Precolombino, which houses an impressive collection of indigenous art and artifacts from throughout the Americas.
3. Barrio Lastarria:
Nestled just east of the Plaza de Armas, Barrio Lastarria is a charming and bohemian neighborhood that has gained popularity in recent years. Its cobblestone streets are lined with cozy cafes, art galleries, theaters, and boutique shops.
Enjoy a leisurely stroll through the neighborhood, and be sure to visit the Centro Cultural Gabriela Mistral (GAM), a cultural center that hosts a variety of events and exhibitions. At night, Barrio Lastarria comes alive with its lively bars and restaurants, making it a fantastic spot to enjoy Santiago's nightlife.
4. Mercado Central:
If you're a food enthusiast, Mercado Central is a must-visit destination. Located near the Mapocho River, this bustling market is a food lover's paradise. The market is renowned for its fresh seafood, and you can sample some of the best ceviche and seafood dishes in the city here.
Wander through the market's lively stalls, where you'll find a wide range of Chilean ingredients, spices, and handicrafts. Whether you're shopping for souvenirs or looking to indulge in authentic Chilean cuisine, Mercado Central is a sensory delight.
5. La Chascona:
Pablo Neruda, the celebrated Chilean poet and Nobel laureate, had a profound connection with Santiago, and you can delve into his world at La Chascona. This museum, located in the Bellavista neighborhood, was once one of Neruda's homes.
Explore the eclectic rooms filled with his personal belongings, artwork, and an extensive collection of books. The museum provides insight into Neruda's life and works while offering a glimpse into the artistic and literary culture of Santiago during his time.
6. Museo Nacional de Bellas Artes:
For art aficionados, a visit to the Museo Nacional de Bellas Artes is a must. This prestigious institution houses an extensive collection of Chilean and international art, including works by renowned artists such as Diego Rivera and Pablo Picasso.
The museum's neoclassical architecture adds to the allure of the experience. Stroll through its grand halls and galleries, immersing yourself in centuries of artistic expression. It's a serene oasis for those seeking inspiration and cultural enrichment.
Read Also : Delta Flights
7. Parque Metropolitano de Santiago:
Adjacent to Cerro San Cristóbal, the Parque Metropolitano de Santiago is one of the largest urban parks in the world. It spans over 700 hectares and offers a wide array of outdoor activities and attractions.
Take a leisurely bike ride or a peaceful walk through the park's beautiful gardens and trails. The park also houses the Santiago Zoo, which is home to a diverse range of animals, making it an excellent destination for families.
8. Santiago's Wine Country:
Chile is renowned for its world-class wines, and Santiago serves as an excellent gateway to the country's wine regions. Just a short drive from the city, you'll find acclaimed wineries in regions like Maipo, Casablanca, and Colchagua.
Embark on a wine tour to explore the vineyards, learn about the winemaking process, and indulge in tastings of exceptional Chilean wines. Whether you're a wine connoisseur or a casual enthusiast, Santiago's wine country offers a delightful escape from the urban hustle and bustle.
9. La Moneda Palace:
Santiago's political and historical significance is embodied in La Moneda Palace. This neoclassical building has served as the presidential palace and is a symbol of Chilean democracy.
While you can't tour the interior without prior booking due to security reasons, the palace's exterior and the surrounding Plaza de la Constitución are worth a visit. Witness the changing of the guard ceremony, which takes place every other day, and learn about Chile's political history.
10. Cajon del Maipo:
Escape the city's hustle and bustle by venturing into the breathtaking Cajón del Maipo. This picturesque canyon is located just a short drive from Santiago and offers a wealth of natural beauty.
Hike along its scenic trails, relax by the clear mountain streams, and marvel at the imposing Andes Mountains that surround you. The town of San Jose del Maipo serves as a gateway to this wilderness, where you can also find soothing hot springs to unwind in after a day of exploration.