Some tips to choose the best Organza saree for you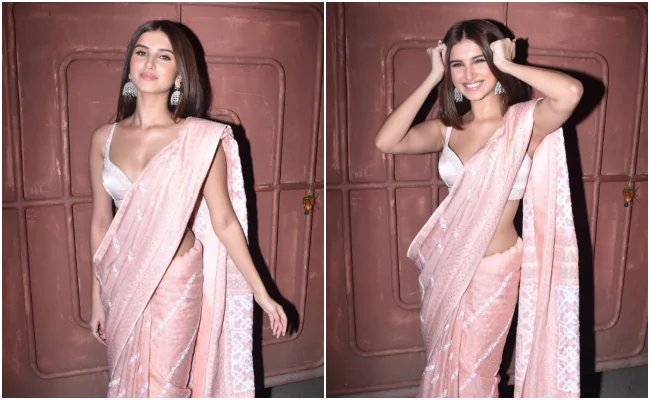 In today's fast-paced world, fashion trends are constantly updating with various styles, making it challenging to choose the right outfit for different occasions. When it comes to traditional attire, sarees are undoubtedly a popular choice among women worldwide. Whether you're attending a wedding or a fancy dinner party, an organza saree is sure to make you stand out. Organza sarees come in various designs, colours, and patterns. Floral print organza sarees, in particular, have gained popularity in recent years due to their feminine and elegant look. These sarees are perfect for daytime events and can be paired with minimalistic jewellery and accessories for a chic and sophisticated look. In this article, we will provide you with some useful tips to help you buy an organza saree that suits your style and occasion and discuss the organza saree price in India and other associated aspects.
Tips to choose the best saree
Organza sarees are a timeless classic in Indian fashion. Known for their sheer and lightweight fabric, these sarees have a subtle sheen that makes them perfect for formal events and special occasions. Here are some tips to choose the best saree for you:
Check for the Fabric quality
Before purchasing a saree, make sure to check the quality of the fabric. This applies not only to organza saree but also to any type of saree. Touch the fabric and feel the quality. The fabric of good quality will feel soft and smooth. Rough or scratchy fabrics may not be comfortable to wear, and they may not last as long. Pure organza sarees are made from pure silk and they can be easily recognized as they have a soft and smooth texture. Remember to consider your needs and preferences when choosing a fabric, as different fabrics have different properties and are suitable for different occasions.
Select a colour suitable for your personality
Select the saree of colour that suits your skin tone and personality. The colour of the saree makes a huge difference in creating a look for you. Organza sarees are available in a wide range of colours, from pastels to bright hues. Each colour has a unique beauty, and wearing a colour that adds to your personality can help you feel confident and empowered. Always keep in mind that choosing a colour for the dress is not mandatory and is completely a personal choice, and there's nothing common. By considering your skin tone, personality, and preferences, choose a colour that suits you well and provides you comfort and confidence in the saree.
Check for the best price
While looking at the price of the organza sarees, can range depending on the quality, design, and brand. If you're looking to buy an organza saree in India, the price range may differ from place to place. The price of an organza saree can vary depending on the fabric quality, design and brand. Typically, a normal organza saree can range from INR 1000 to INR 10,000, while a designer saree can cost anywhere from INR 5000 to INR 50,000.
Choose a saree with fewer embellishments
Look for floral print organza sarees online india sarees with minimal embellishments, such as delicate embroidery or sequins, to add some sparkle and shine to your look.
Choose a Design that suits your personality
Organza sarees are available in a diverse range of designs, ranging from traditional to casual wear. Floral print organza sarees, in particular, have gained popularity in recent years due to their feminine and elegant look. These sarees are perfect for daytime events and can be paired with minimalistic jewellery and accessories for a chic and sophisticated look. So carefully choose a design that suits the occasion and your style.
Choose a saree comfortable to wear
Choose the organza saree that is comfortable for your body and that is easy to drape by considering what occasion you are wishing to wear this saree. The occasion you're wearing the saree for can influence the need of how comfortable it needs to be. If you are required to wear the saree for a long period, choose a saree of lightweight and comfortable fabric that won't weigh you down. The blouse you wear with your saree can also impact how comfortable it is to wear. As organza sarees are lightweight and easy to drape and can be comfortable for you throughout the day.
Provide proper care to the organza sarees to last longer
Organza sarees are delicate and require proper care to maintain their beauty and longevity. Organza sarees should be dry cleaned to ensure that they are properly cleaned without damaging the delicate fabric. Store your saree in a cool, dry place away from direct sunlight and moisture. Also, these sarees should be ironed at a low heat setting, preferably with a pressing cloth to protect the fabric. Do not wear these sarees regularly as they are delicate and can cause the fabric to fray or tear. Try to shuffle the sarees to make them last longer. Use these sarees mainly for occasions such as marriages, casual parties etc. and rarely to offices. These can help them last longer in the wardrobe.
Wrap Up
In summary, choosing a comfortable readymade designer blouse and organza saree for an occasion requires attention to detail and proper care. When selecting any saree, such as Organza saree, consider its fabric quality, comfort in wearing, and the occasion you aim to wear, to ensure that you choose a saree that suits your needs and preferences. It's important to take proper care of your Organza saree by storing it properly, dry cleaning it, avoiding excessive wear, and being careful when ironing and removing stains. By following these tips, you can ensure that your organza saree remains beautiful and lasts for years for any contemporary occasion coming in future. With the right care and attention, your organza saree can be a treasured addition to your wardrobe and a symbol of elegance and grace. Organza sarees are beautiful and delicate garments that require proper care and maintenance to ensure that they last for a long time.